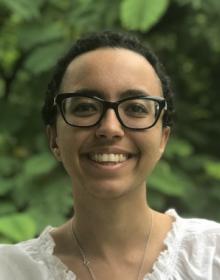 Sarah Cassidy-Seyoum
Program Coordinator, Lao PDR
Sarah Cassidy-Seyoum is an in-country Program Coordinator in Lao PDR with the UCSF Global Health Group's Malaria Elimination Initiative (MEI). Sarah provides technical and operational support for projects in Lao PDR that aim to reduce malaria transmission, especially among high risk populations, on the path to malaria elimination. Projects with which she is currently involved focus on community reactive case detection as a method of reducing malaria burden and G6PD testing as a means to improving Plasmodium vivax malaria treatment.
Prior to joining the MEI, Sarah worked with the World Health Organization as a United Nations Volunteer and a Provincial Malaria Officer in a high burden southern province in Lao PDR. She supported the National Malaria Program at the provincial level in carrying out routine surveillance activities, implementing outbreak responses, conducting surveillance and outbreak data analyses, and monitoring treatment efficacy studies.
Sarah has a Master of Science degree in the Control of Infectious Diseases from the London School of Hygiene and Tropical Medicine, as well as a bachelor's degree in Government and a minor in Biological Sciences from Smith College.