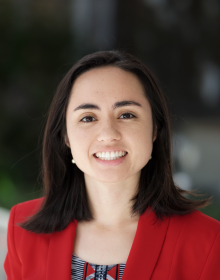 Hannah Sans
Hannah Sans is a 4th year medical student currently applying into family medicine residency. She serves as a student researcher for the Child Health and Infection with Low Density (CHILD) Malaria Infection in Tanzania. In this role, she is piloting neurodevelopmental instruments which will be utilized to investigate whether identifying and treating low-density malarial has benefits for children's cognition and attention. 
Hannah has experience with research in a range of infectious diseases. During medical school, she supported initiation of the Long-Term Impact of Infection with Novel Coronavirus (LIINC) study with the goal of characterizing the long-term biological and immunological consequences of COVID-19 infection. Additionally, she has reported on the immunological effects and adverse outcomes of checkpoint inhibitor therapy in people with HIV as part of a comprehensive chart review project. Previously, she worked with the UCSF Weill Institute for Neurosciences as a summer researcher optimizing a miniaturized protocol for tuberculosis meningitis detection via next-generation sequencing. Prior to this, she served as a graduate student researcher with Dr. Gertrude Buehring at UC Berkeley exploring the potential role of bovine leukemia virus in breast cancer pathogenesis. 
Hannah studied integrative biology and public health as an undergraduate at UC Berkeley. She continued at UC Berkeley to earn a Masters of Public Health with an emphasis on Infectious Diseases and Vaccinology.