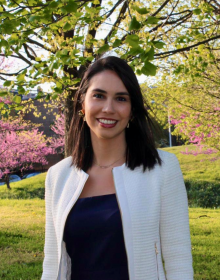 Sonia Herrera
Sonia Herrera, MD, MPH, is a Post-Doctoral Fellow at the UCSF Malaria Elimination Initiative (MEI). In this role, she supports projects in Latin America and the Caribbean and has focused on developing two main projects in Colombia. One of these projects consists of a randomized control trial related to primaquine (PQ) double dose for radical cure of Plasmodium vivax. The other involves the implementation of a risk-benefit tool to support countries in establishing evidence-based policies for Plasmodium vivax radical cures that are safe, effective, and operationally feasible.
Sonia's research background includes studies to determine the prevalence of vector-borne diseases in Colombia, including malaria, dengue, Zika, and chikungunya. She also coordinated a study, funded by the Foundation for Innovative New Diagnostics (FIND) in Switzerland, on Pan-LAMP and Pv-LAMP, molecular techniques to diagnose malaria. Additionally, she has been involved in research on the prevalence of G6PD deficiency in Colombia and the potential adverse events associated with using primaquine to treat Plasmodium vivax in patients with G6PD deficiency. Furthermore, Sonia has actively worked on immunization programs with the Caucaseco Scientific Research Center in Cali, Colombia. Further, as part of the NIH International Center of Excellence for Malaria Research (ICEMR) and within the scope of NIH grants, she executed studies on antibody-mediated immune response in areas of Colombia with moderate malaria transmission. She has also generated a transgenic malaria parasite, used as a model for vaccine candidates.
Sonia has an MD from the University of The Andes in Bogotá, Colombia, and an MPH from Johns Hopkins University.  She also served as a post-doctoral fellow at Johns Hopkins University. In this capacity, her work encompassed studies to identify and characterize Plasmodium vivax antigens and their diversity, as well as a detailed Plasmodium vivax CS protein characterization that included immuno-epidemiological analysis.